Pilot-Operated Safety Relief Valves
Pilot-Operated Safety Relief Valves
Overview

Consolidated Pilot Operated Safety Relief Valves (POSRVs) offer the safety you expect, the dependability you require, and the efficiency you need to keep your operations running smoothly. These valves offer a premium performance and numerous technical benefits and operating advantages over traditional Pressure Relief Devices.

Features & Benefits

Pilot Operated Safety Relief Valves are designed with several features that differentiate it from traditional spring loaded safety relief valves with superior performance, and with a compact design are lighter weight and easier to install in most applications.

Zero Leakage at High Operating Pressure

Consolidated Pilot Valves offer industry leading performance with both main valve and pilot seat tightness up to 98% of set pressure. This advanced design ensures zero-leakage during normal operating conditions for even the most demanding high-pressure applications.

Stable & Efficient Overpressure Cycle

Remote sense configuration eliminates rapid cycling valve chatter in applications with >3% inlet line loss, enabling Consolidated POSRVs to open and relieve pressure in a stable and efficient manner. The modulating style opens proportionally to your overpressure pilot, ensuring a smooth opening cycle and relieving only required capacity, keeping your operation safe, efficient and reliable.

Flexible & Modular Design

Certified on gas, liquid and steam, and configured to suit your application with flexible features including an adjustable blowdown, bolt-on modulator, pilot line pressure surge snubber and dozens of optional accessories, ConsolidatedPOSRVs can be configured for any service.

In-Service Testing

No need to shut down your process to send your PRV to a service shop, conduct a standard set pressure test in the field while your process is running with theConsolidated Field Test Connection accessory. It comes standard with every Consolidated Pilot Valve, and allows you to conduct your set pressure test while the valve is live in service and continuously protecting your pressure vessel.

Greater Capacities with Smaller Valves

The Consolidated full-bore POSRVs allows you to maximize capacity with smaller valve sizes, saving you money, space, and weight.

Smaller & Lighter Profile

In comparison to a Direct Spring PRV, the Consolidated Pilot Valve offers significant size & weight advantages for a more compact installation. As the main valve size increases, the Pilot Valve remains the same, which further amplifies this benefit as pipe sizes increase.

Full-Nozzle Option

For corrosive service applications, the Consolidated 2900 Series Gen II provides a full-nozzle Pilot Valve design option. With a full-nozzle, the media is isolated from the inlet neck area of the main valve body, allowing you to avoid costly exotic material upgrades in some corrosive service applications.

Easily Upgrade Your Direct Spring PRV

If you have an existing installation of a Direct Spring PRV that is oversized, improperly specified, or could benefit from the features and benefits a high performance Pilot Valve has to offer, the solution is the Consolidated 2900 Series Gen II Pilot Valve. This is the only Pilot Valve solution in the market that is able to replace any manufacturer's API 526 Direct Spring PRV without piping modification caused by center-to-face dimensional differences. Click Here to learn more about the unique Consolidated drop in replacement Pilot Valve.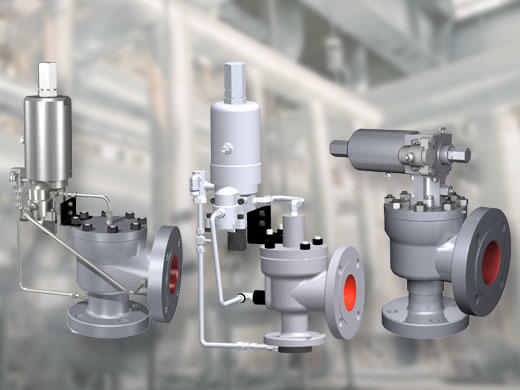 Showing
5
results out of
5