Baker Hughes Announces the Next Great Technology Leap with the SVI3 Digital Valve Positioner
Foxborough, Massachusetts (April 17, 2020)

Today, Baker Hughes proudly announces the launch of the latest evolution in a long history of industry leading digital valve positioners, the Masoneilan SVI3. Built upon a robust legacy platform, with billions of in-field installed operating hours, the SVI3 continues to leverage excellence of a proven design in both reliability and performance that has made it best in class. This next generation platform takes a leap forward with advanced technology including on-device diagnostics, expanded data storage for on-device trend collection, and design modularity allowing performance upgrades through simple-to-add, snap-on modules.
"For over 20 years, we have collected voice of our customers in our journey towards continuous perfection of our digital valve positioner technology." says Mark O'Neill, Senior Product Manager at Baker Hughes. "Today, we are launching a new modular platform that is designed for ease of operation, complete with snap-on, upgrade modules which users can easily add-on in the field to unlock greater performance from their device. This technology allows our customers, who are looking to progress forward into the Digital Transformation era, to unlock the advanced potential of the device that may not have been initially purchased by an EPC or 3rd party previously."
The SVI platform, and our Masoneilan Valve Lifecycle Management (VLM) software, continue to be designed on open and neutral platforms that enable full integration with any valve OEM, digital positioner OEM, or DCS system. This has allowed us to monitor operations, detect wear of the valve, and predict failures using software such as Masoneilan Valve Aware. The new SVI3 now includes 19 NEW diagnostics for advanced and continuous monitoring of valve health while in operation, in addition to an increased storage capacity with over 1 year of memory to track performance trends on the device. These industry firsts provide users the ability to unlock historic diagnostic analysis to monitor events over time and set preventative alerts; even in cases where valves are not under an immediate and continuous monitoring contract.
Users have specified the SVI platform for decades because of its ease of use. With a single button 'Smart Cal', the device can be self-commissioned and tuned while the user walks away to manage other needs. Improved user interface and an easy to read screen help users unlock information without complexity. Improved features such as 40% reduction in steady state air consumption improves emissions output, and a 15% improvement in air delivery enables faster actuation. Certified for ambient conditions as low as -55 degrees C in arctic conditions, the SVI design is robust enough to operate in the most challenging environments.
Learn more about our great solutions with some of our easy to follow tools that are now available. Click the images below for full details.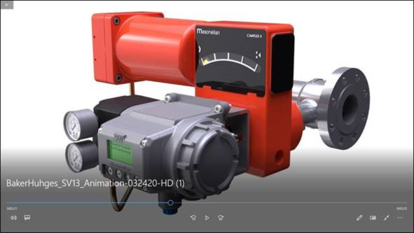 Today, many suppliers can claim high performance, but side-by-side the Masoneilan digital portfolio is hard to match. Combining the SVI3 with the Masoneilan VLM (Valve Lifecycle Management) advanced predictive diagnostic tools provides a complimentary and complete lifecycle management solution. This full scope of solutions ensure our customers can claim Masoneilan has their "Process Controlled".
For more information on the New Baker Hughes, Masoneilan SVI3 Digital Valve Positioner, and the suite of Digital VLM technologies, please visit our links below.
https://valves.bakerhughes.com/masoneilan-svi3-digital-valve-positioner
https://valves.bakerhughes.com/valve-lifecycle-management
Baker Hughes, is the world's first and only Fullsteam provider of integrated oilfield products, services and digital solutions. We deploy minds and machines to enhance customer productivity, safety and environmental stewardship, while minimizing costs and risks at every step of the energy value chain. With operations in over 120 countries, we infuse over a century of experience with the spirit of a startup - inventing smarter ways to bring energy to the world. For more information on Baker Hughes visit: www.bakerhughes.com